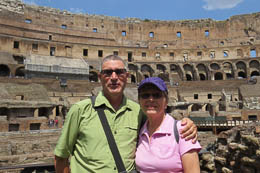 Repaired and traveling again
If you read the posts from the 9th April onwards you will see that I got the necessary spares parts in Germany and have since returned to Yakutsk, repaired the truck and we are traveling again on the M58 towards Chita.
Broken down in Yakutsk
We are currently in Yakutsk with a broken truck, see this post for some pictures of the problem. I will be going to Berlin soon to get replacement parts and hopefully that will get us back on the road
Khabarovsk TV news
In the city of Khabarosk we did an interview with a local TV news program, here is a link to a Youtube video of the piece they put together Khabarovsk new item
What's on this site
A daily Journal, a route map (both actual and proposed) with daily camping spots, and photo galleries.
In addition there will be periodic posts on topics that catch our fancy and articles on topics we think other travelers will find interesting. Also see the Vehicle, Gear and How items on the main menu.
An easy way to stay in touch is to subscribe to our RSS feed.